This is my first me made bra, it is not perfect but it fits and I love it, there will most definitely be more.
I ordered the materials from Bra-makers supply in Canada and since it was the first time, I ordered a complete kit, just to get it right. I was very nervous about making it but it is really quite straight forward, I did read Demystifying bra fitting and construction by Norma Loehr and I recommend it if you are thinking about making your own bras but never get to it or you can just read her blog, it is amazing. Cloth habit also has a lot of good posts about bra-making and a backlog from the bra sew-along from last year. She was the one that originally inspired me to make bras just look at this pink and brown one.
Bh material i Sverige:
B wear: byglar, casing, färdiga kitt och Pin-up girls bh mönster, levererar snabbt och jag fick tillbaka överskottet på portot stort +.
Röda tråden: har även korsett material , Har inte beställt härifrån än men skall testa vilken dag som helst nu då jag planerar att göra en "longline" bh och behöver boning.
Bibbis textil: har byglar och casing mm. (har inte beställt här ifrån)
Om du vet fler så är jag mycket intresserad så lämna gärna en kommentar så jag kan spana in dem. 
The process
I made 2 toils in woven linen in the first one it felt like about everything was wrong and I started to mistrust this idea, it seemed like I ordered the wrong size pattern and inexperienced as I am wasn't going to be able to fix it but after modifying the band under the cups it all just worked and a little cup modification and it fit me. My size is 38″B but my wire size is 42 so apparently I have flat and wide breast and that it why I have such trouble finding bras that fit.
I didn't like the shiny side of the fabric from the kit so I basted it together with the stretch net or the back band to create a matt finnish. I used the pin-up girls Classical bra #1230, I widened the band a bit  and the straps to match my findings.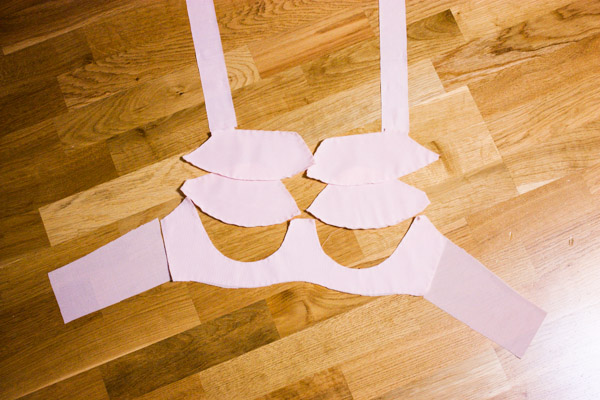 This entry was posted in